^
production photography by Miles Davies www.milesdaviessite.com
PLAYERS
AGM
COMMUNITY CENTRE
23rd AUGUST
7.30
COMMUNITY THEATRE SINCE 1935
PLAYERS
AGM
COMMUNITY CENTRE
23rd AUGUST
7.30
The Turn Of The Screw
by Ken Whitmore, from the story by Henry James
March 7-10 2018 - showpack soon
Just For Laughs 3
just when you thought
it was safe to go back to The Barn...
along comes a Comedy Night!
July 20-22, 2017
Goodnight Mr. Tom
by David Wood
*Our 2017 Arts Council Awards entry*
September 13-16, 2017
The Man Who Came To Dinner by Moss Hart and George S. Kaufman
December 6-9 2017
Show Pack Now Available - anitajones7@ntlworld.com
Fantastic Mr. Fox
our Youth Group (SPY) presents Roald Dahl's story
July 18-21 2018 - details soon
JUST FOR LAUGHS 3
Leave Your Kids At Home
July 20-22, 2017
OMG they are back again -
Hilarious comedy sketches and
songs from sublime to the ridiculous, performed by a willing ensemble of the
(un)usual cast of nutters and misfits.
This is the third Southwick Players "Just for Laughs" show, hence the 3 in the title... we are preparing some rib-tickling material!
Guaranteed hilarity or your money back*
More fun than Pokemon Go!
Saucy Language!
No mimes!

Presented in Glorious 3D!

*on presentation of £15 cash
Our glorious - and very flexible - lineup so far! Amy Bowyer, Brian Jones,
David Otway, H Reeves, Hannah Kelly, Ian Churchill, Jamie Collins, Julian McDowell, Liam Baines, Liz Gibson, Louise Yeo, Mark Best, Pete Plumb, Ron Common, Sally Diver, Sarah Dawson, Sharon Churchill, Steve Emery , Tracey Bates, Lord Lucan.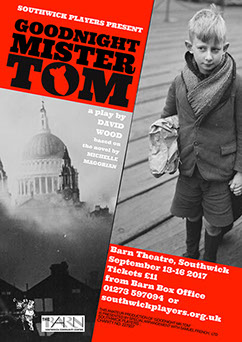 Goodnight Mr. Tom
by David Wood
September 13-16, 2017
One of the most uplifting stories ever written, Michelle Magorian's Goodnight Mister Tom is brought gloriously to life in this stage adaptation by David Wood. Set during the dark and dangerous build-up to the Second World War, Goodnight Mister Tom follows sad young William Beech, who is evacuated to the idyllic English countryside and builds a remarkable and moving friendship with the elderly recluse Tom Oakley. All seems perfect until William is devastatingly summoned by his mother back to London.
Goodnight Mister Tom is a tale of two broken souls at very different ends of the age scale that celebrates the value of love and proves that friendship knows no barriers.
GOODNIGHT MR TOM CAST!
Olivia Harrison, Brooke Lewis, Dixie Humberstone Ford,
Henry Andrews, Ruby Houghton, Thomas Scott, Lucy Scott, Rebecca Hain, Louis Johnson, Sharon Churchill,
Liz Gibson, Jamie Cranfield, Mark Caplan, Nikki Dunsford,
Amy Bowyer, Harry Atkinson, H Reeves, Louise Yeo,
Nina Hayward, Jenny Burtenshaw (tbc)
The Turn of the Screw
by Ken Whitmore, from the story by Henry James
March 7-10 2018
details and show pack soon
The Man Who Came To Dinner by Moss Hart and George S. Kaufman
December 6-9 2017
Auditions 5th & 6th September
Show Pack Now Available