^
production photography by Miles Davies www.milesdaviessite.com
COMMUNITY THEATRE SINCE 1935
Pinocchio
a Traditional Family Panto
Dec 31, 2016 - Jan 7, 2017
Blue Remembered Hills
by Dennis Potter
Tickets on sale now or call the box office on 01273 597094
October 12-15, 2016
Under Milk Wood
by Dylan Thomas
April 5-8, 2017 - details soon
Just For Laughs 3
just when you thought it was safe to go back to the Barn...
July 20-22, 2017 - details soon
Goodnight Mr. Tom
by David Wood
September 13-16, 2017 - details soon
The Man Who Came To Dinner by Moss Hart and George S. Kaufman
December 2017- details soon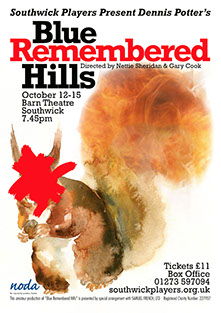 12-15 October 2016
Blue Remembered Hills
by Dennis Potter
directed by Nettie Sheridan and Gary Cook
Tickets on sale now
or call the box office on 01273 597094

Dennis Potter's examination of memory and childhood, set in the impoverished Forest of Dean during WW2.

A hilarious and incredibly moving story. Through the simple act of using adults in the children's roles, Potter is able to emphasise the darker aspects of children's innocence and imagination, creating an altogether more complex and ambivalent picture of that "land of lost content".
On an idyllic summer afternoon in 1943, a group of children play in the West Country hills, fields and forests. With no adults around, they indulge in spontaneous games and horseplay - sometimes echoing the distant war, at other times revealing their own insecurities and petty vindictiveness. But as they tease, fantasise and fight the day away, their innocence is about to be destroyed forever...
CAST in alphabetical order:
John: David Balfe
Peter: Andy Bell
Willie: Steve Martin
Angela: Bea Mitchell-Turner
Donald: Tobias Clay
Audrey: Kate Stoner
Raymond: Andrew Wesby
Blue Remembered Hills is our entry in the 2016 Brighton & Hove Arts Council Awards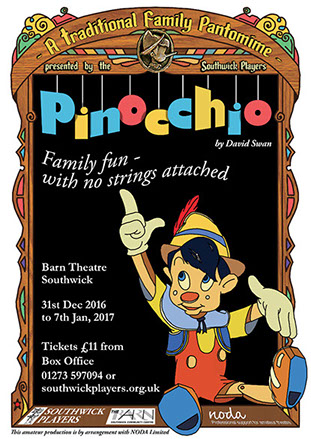 PANTOMIME PINOCCHIO
It's panto time again ... 'oh, yes it is' and what better story to tell this year than one of the most magical and moralistic of fairytales – Pinocchio. This panto really has it all: a cast of amazing and colourful characters, plenty of raucous audience participation, a gondolier chase and even a full-sized whale on stage!
All three of us have had the most amazing experiences within the world of pantomime, either as audience members, part of a production team or as performers.
- Claire Lewis, Tony Bright & Michael James
Main Cast:
Jimmy Crankit: Tobias Clay - Grazia: Lou Yeo
Signor Verruca: H Reeves - Geppetto: Ron Common
Charlie: Andrew Wesby - Semolina: Jenny Burtenshaw
Confetti: Nettie Sheridan - Rambino: Sally Diver
Baby Dimples: Amy Bowyer - Mama Scrumpi: Tony Bright
Fungus: Ian Bishop - Maggot: Nikki Winter
Sapphire: Bob Woodman - Pinocchio: Sabina Silver
---plus large ensemble---
Dec 31, 2016 - Jan 7, 2017
April 5-8, 2017
Under Milk Wood
by Dylan Thomas
directed by Harry Atkinson
To begin at the beginning: It is spring, moonless night in the small town, starless and bible-black...

Thomas' celebrated "Play for Voices" is a celebration of the trivia, dreams, desires, imaginings, and just plain life of a small Welsh fishing village "of no particular significance" on one Spring Day. Gorgeously intertwining narratives and digressions into a seamless whole, we meet the residents of Llareggub, nestled in the bay under the "Mystic Tumulus" of Milk Wood
More details soon
JUST FOR LAUGHS 3
July 20-22, 2017
OMG they are back again - Comedy sketches and songs from the (un)usual cast of nutters and misfits.
Guaranteed hilarity or your money back*
More fun than Pokemon Go!
Saucy Language!
Presented in Real3D!
*on presentation of £15 cash
Goodnight Mr. Tom
by David Wood
September 13-16, 2017 - details soon
The Man Who Came To Dinner by Moss Hart and George S. Kaufman
December 2017- details soon